On Saturday, June 18th, dozens of anarchists and other community members staged an angry protest against gentrification and green capitalism at Greenbridge, a "green" development of condos for eco-yuppies. Demonstrators held banners outside while others occupied the lobby in an expression of outrage against the displacement of renters from the neighborhood. Three people were arrested and charged with felony "inciting a riot" and misdemeanor property destruction, and have been released on bail. The demonstration drew attention to the ongoing tolls inflicted by the development, which was built by a coalition of multi-millionaires over the protests of community members to profit off the bourgeois craze with all things "green." But money is the only thing green about Greedbridge, as it has been nicknamed by neighbors.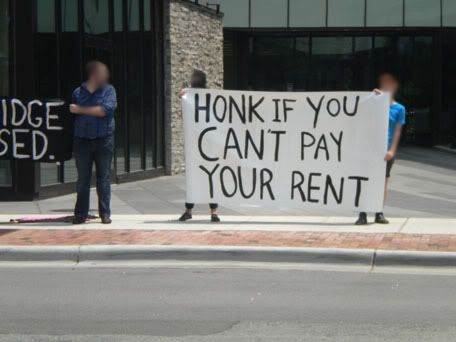 According to reports, two groups of demonstrators converged on the development around 2 PM; one group of around 20 stood on the street in front while a second group of approximately 25, some masked, entered the lobby of the building and staged a feisty occupation, clapping and chanting anti-gentrification slogans. Police allege that a table, some pieces of art, and the floor of the lobby were damaged. Outside, demonstrators held banners reading "Honk If You Can't Pay Your Rent," "Greenbridge is Closed," and "Total War on Gentrification," while passing out flyers (text below). When police arrived, the demonstrators inside dispersed, while the protest outside continued for another 45 minutes. As the following background illustrates, this latest protest is only the most recent escalation in an ongoing campaign against "green development" and gentrification in Chapel Hill.
Background: Green Capitalist Development and Resistance
For more than the past two and a half years, anarchists in Chapel Hill, NC have joined a broad constituency of tenants, homeowners, churchgoers, service workers, and students to fight the construction of a massive luxury eco-condo called Greenbridge. Many believe that the development has hastened the pace of gentrification and displacement in nearby Northside, a historically African American neighborhood that, despite influxes of students, remains largely multi-racial and working-class in character. This neighborhood is also home to anarchists, who along with other neighbors and friends have lost homes due to development companies and speculators buying up all available real estate and raising rents.
The protest that occurred Saturday, June 18th against Greenbridge was only the most recent act in a long narrative of resistance to this project. This resistance has taken many forms, including community forums at a local radical bookstore, church-hosted gatherings, media hoaxes designed to undermine the project's image, banner-drops, a call for a city-wide boycott signed by over 60 Northside households, smashed windows at the development's office, an "eviction" of the project's general contractor, the founding of a center aimed at preserving Northside residents' life stories and history, graffiti, and literally thousands of wheatpasted posters, and telephoned bomb threats. This struggle has deepened longstanding fissures between the predominantly White liberal Left, who maintain a strong political hegemony in Chapel Hill, and various groupings of local black institutions, students, tenants, service workers, and anarchists (which are overlapping demographics).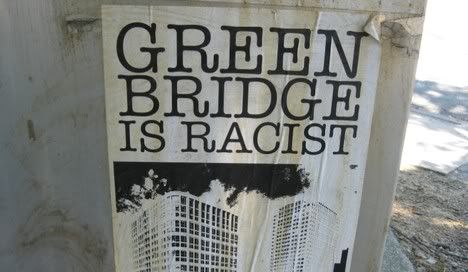 Encouragingly, despite the support of wealthy developers and the local Left, the opposition (along with an economic recession) has succeeded in bringing the development to its financial knees. Greenbridge has only been able to sell 36 of its 97 residential units and has been unable to pay back its debt. Almost the entire first floor of commercial space remains empty and unfinished, and Bank of America recently began foreclosure proceedings. While foreclosure is currently on hold, there is a lien on the property, preventing Greenbridge from selling more units. Without more investment capital, they are dead in the water and ripe for occupation. Speaking more qualitatively, the highly public opposition has succeeded in rendering a supposedly welcomed, popular project into a highly controversial symbol of racist liberalism and wealthy elitism. Though the amorphous process of rent increases and gentrification has continued, a panel of mayoral candidates unanimously declared last year that they want "no more developments like Greenbridge," and even the City Council has called for a moratorium on development in the area. In Chapel Hill, "greenbridge" has become a dirty word.
The text of the flyer distributed at Saturday's occupation:
OCCUPY THE OCCUPIERS!
We're here to express our rage about the displacement of renters from Northside. Greenbridge has been instrumental in causing property values in the neighborhood to skyrocket; families and households have been forced out as investors like Engelhardt Ventures buy up all the property. This demonstration is the latest chapter in a narrative that has included public opposition, a boycott campaign, posters, graffiti, and more.
In the midst of a nationwide housing crisis, it is especially ironic that so many tenants have had to leave their homes on account of a development that remains mostly empty. This shows how the system of property rights prioritizes capitalist investment over the human beings it affects.
Well-behaved citizens will object that we are disturbing the peace. Have they so much as batted an eye as families have been forced out of this community?
Developers will charge that not all of us live in Northside. But they can bring in investors and wealthy homebuyers from the other side of the country to finance the developments that make it impossible for us to live here.
Property owners will object that this is private property. But before this was a high-rise gated community defended by key cards and security guards, it was the church that hosted the charter school, the Ethiopian restaurant. This space used to be a part of our community; now the wealthy have stolen it from us.
Politicians will insist that we should focus on bureaucratic reforms when the solution is obvious: the displaced should be permitted to move into the empty units in Greenbridge itself.
This isn't just about Northside. The displacement of renters from Northside is a microcosm of the story of all the service workers and poor people in Chapel Hill. We are constantly being forced to relocate, working in town but commuting from Durham or the country. This makes it impossible for us to maintain ties and stand up for ourselves together; it means that the privilege of being a recognizable community with legitimate interests is reserved for the property-owning middle class.
This protest is the only meaningful alternative we have to being silenced and written out of history. Against landlords and developers – Occupy the occupiers!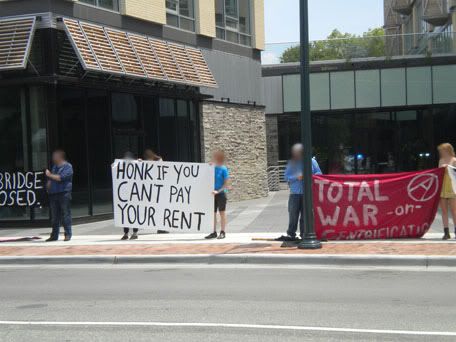 More information on Greenbridge and local resistance:
"Sustainability, TM"– Derrick Jensen and Aric McBay convincingly debunk the myth of "green" industrial architecture and development, focusing on architect William McDonough, who designed Greenbridge.
"Northside Residents Advertise Their Greenbridge Anger, Claim Project Will Ruin Neighborhood" – news article on anti-Greenbridge community organizing prior to Saturday's action:
"Greenbridge Walls, Property Vandalized" – news article on more anti-Greenbridge activity
"Must the Greens Hate the Rich? Class War in NC" – a friend of millionaire Greenbridge co-founder Tim Toben laments the anti-capitalist rage against "green development"
"A Brief Renaissance" – news article discussed the impending foreclosure of Greenbridge by Bank of America
And finally, a hilarious posting from a blog popular among Chapel Hill liberals (anarchists armed with anvils!):
BREAKING: Rioters arrested at Greenbridge
So remember last year when I said that the people threatening violence against Greenbridge were doing more harm than good? They made a bomb threat against the building while it was under construction. Did it make Greenbridge better or cheaper or more accessible? Did it help the developers better serve the community? Did it help the community combat the rising cost of living in Chapel Hill? No, but it probably served to make a small group of immature activists feel better about themselves.
Yesterday, a group of anarchists entered the lobby of Greenbridge intent on destruction. The group of over 30 demonstrators were armed with an anvil, and proceeded to do major damage to the floor, a glass table, and several pieces of artwork. Eight people were arrested, 3 were held on felony inciting a riot charges until they were released from the Orange County Jail on a total of $8,000 bond.*
With the news that Greenbridge will probably avoid foreclosure, we should all breathe a sigh of relief. Let's just hope that the new buyers will be at least as invested in the community as the previous partners, so they can continue to make good (and maybe even improve on) their promises to Chapel Hill.
There are a lot of good people doing good work to help Northside (such as the wonderful Marian Cheek Jackson Center profiled in the Chapel Hill News this weekend, and the Counter Cartographies Collective mapping the change in neighborhood ownership), but I hope they realize that there are also some jokers that are too caught up in their own childish agenda. If they are are so passionately opposed to Greenbridge, why did they not speak to the Planning Board or the Town Council when it was being approved years ago? Nearly everyone, including many revered leaders in Northside spoke in favor of it. And what are they doing now to help strengthen Northside, and create their own vision of the community's future?
Many committed activists are preparing for tomorrow night's public hearing at the Chapel Hill Town Council meeting to discuss a proposed moratorium on development in an effort to halt the gentrification of Northside. Meanwhile, these violent demonstrators are stroking their own egos and making life harder, even for the people they say they are trying to help. It's a real shame.
*An editorial note: Much of this reporting come from a first hand account that I received confidentially. I confirmed the aspects I could by calling the Orange County Courthouse, and checking against their jail custody report. If anyone has conflicting or clarifying information, I would be happy to hear it. I also hope that some of the few remaining reporters left in Orange County might be able to cover this, but the lack of information about it in today's media is disheartening.