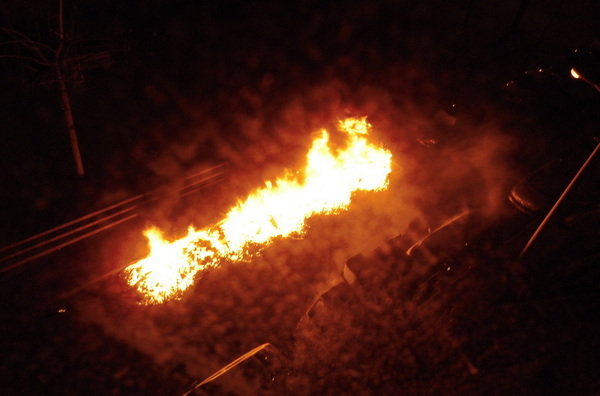 from culmine, transl waronsociety, communique:
May 1, 2012
In Poblesec:
– At about 9:50 PM, the "Passeig de l'Exposcio" street was blocked off with burning dumpsters.
– At 10:30 PM, Jaume Fabra street was also blocked.
In Bonanova:
– At 12:40 AM the windows of 10 luxury cars were destroyed, the hoods and windows stoned and destroyed, and then the tires were punctured.
– At 1:30 AM, Ganduxer street was blocked off with 5 burning dumpsters.
– At 2:40 AM various houses in the wealthiest area were attacked with paint bombs.
– At 3:00 AM the doors of a 5-star hotel were attacked with blunt objects.
May 2, 2012 
In El besos:
– At 3:20 AM, La Rambla Prim was blocked off with five burning dumpsters.
– At 3:50 AM, a La Caixa bank branch was attacked, two molotov cocktails thrown at two ATMs.
– At 4:10 AM on Carrer del Taulat, a row of 10 dumpsters were set on fire, also, in order to block off the street burning furniture was used.
– At 4:30 AM, the windows of a Caixa Sabadell bank were destroyed with rocks and hammers and then paint was thrown. Then, the ATM was set on fire.
In Raval:
– At 4:20, simultaneously other compas in the Raval neighborhood blocked off the Carrer de la Cera with 5 burning dumpsters with molotov cocktails.
– At 4:50 AM on Carrer Aurora, a row of 8 dumpsters were set ablaze.
– At 5:20 AM, 3 bank branches were hit with rocks and hammers, also paint was thrown against them.
May 3, 2012
In the metro area of Barcelona:
– On Carrer Calderon de la Barca, at 4:50 PM, a telephone booth was hit hard with hammers and rocks until it was knocked over.
– At 6:20 PM, a row of 6 dumpsters were set on fire in Europa street with several molotov cocktails.
– At 10:40 PM, two telephone booths were set on fire.
– On Carrer de la Gravina, a religious and state-aided private school was attacked with 4 molotov cocktails, as well as the windows of the exterior kitchen being destroyed with rocks and hammers.
May 4, 2012
Montcada i Reixac:
– At 2:30 AM, a row of 10 dumpsters were set alight on Carrer de Bogatell, also two ATMs were burned.
In La mina:
– At 11:30 PM. Carrer de Tessalia was blocked with burning dumpsters and a Caixa Laietana branch was attacked with hammers and rocks.
* * *
We have lost confidence in the democratic middle class, we have lost confidence in a society that when faced with social conflict asks for more repressive measures, asks for more police, more harassment, personalize the "insecurity" of the lower classes asking for their imprisonment, deportation (in the case of immigrants), or enclosure… it's certain that if they could they would surround the lower neighborhoods with electric fences. All this, acting as if the problem is not the economic inequality of the system, not a social problem created by the structures of capitalism and the state, that the root problem is not private property and social inequality… that while some have 40 homes, others do not even have a roof to live under, that the system does not allow you possibilities, that it condemns you for life. These people ask for more police, more CIES [immigrant detention centers], they say that the main problem is the immigrant youth (for example) and they vote for the extreme right. Therefore, we do not fight for these "democrats," for these "free citizens" (or rather such idiots that they believe they are free…), we fight for the kid who has to provide for his family alone, who spends his days on the street searching for food or in the scrap heaps, who is wary when he imagines his future, who lives in secluded rat holes having to rob at gunpoint, for those who live below the poverty line and show themselves violently against this. We fight for those kids who were expelled from their schools or institutions for not adhering to the authoritarian rules of the classroom and the centre, for "getting bored" of authoritarian indoctrination, disrespecting the bourgeois schemas and therefore were punished and expelled. We fight for all of them because they are the only ones who  — whether unconsciously or not — rebel against the capitalist society, who suffer fascist and police aggressions.
But we do not resign ourselves, and we do not make ourselves victims. We propose the response… faced with all this, we opt for the social threat, for insecurity, for pressure and punishment toward systematic structures, for night-time arsons, for the internal and asymmetric threat, for FEAR as a form of vengeance on the system and the society that constitutes and supports it. We are in civil war between the system along with the society that supports it against the marginal youth. They imprison, repress, occupy with police… we contest with violence, with insecurity, with social tension, with panic. Violence from below will do nothing but intensify and so they will have to shield they houses, their cars, their banks, their churches. While those from above rob us of life, enclose us, discriminate against us… they will have their fear on stepping into the street, fearing and having to equip themselves with cameras, police, security systems.
While the youth continue to be marginalized and exploited, the middle bourgeois class, the bosses, the cops… will live with fear and terror of those who assault them, rob them, attack them.
The streets are ours.

Arms your hands, spit your hatred against the tyrant.
Nihilist Anarchists.