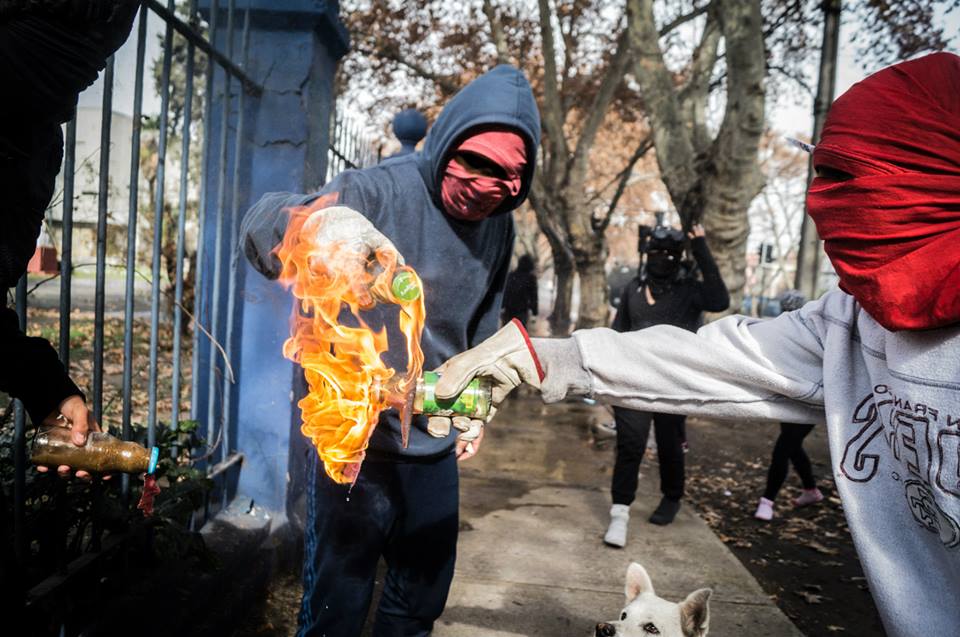 from rebeliondelaspalabras, transl wos:
Note from Rebelion: Compas from Noticias de la Guerra Social sent me the news about another event of clashes with the police as a symbolic gesture of solidarity and of spreading information to support compañera Tamara Sol (imprisoned and accused of being the woman who shot a security guard in a BancoEstado branch–without killing him–in revenge for the murder of compañero Sebastian Oversluij, who had died days before, himself shot by a security guard at another office of the same bank, when he was trying to carry out an expropriation) and the recently-sentenced compañeros of the Security Case, Marcelo Villarroel, Freddy Fuentevilla and Juan Aliste, who received long sentences after being found, by the justice of the rich, "guilty" of having killed a corporal of the carabineros in an armed clash where another agent was seriously wounded, and carrying out several bank expropriations.
Moreover, the action was also dedicated to the memory of Marco Cuadra, a man who, made desperate by the awful work conditions that he had to endure at his job, killed himself by setting himself on fire on June 2nd.
Below, the notice we received, accompanied by a video and photographs of the action:
——————————-
On Monday, July 14, 2014, a group of encapuchados erected barricades on the outskirts of the ex-Pedagogico in the vicinity of the intersection of Macul and Grecia.
At 1:30 pm, fire, rocks, paint and molotovs blocked off the urban routine in order to bring to the street compañera Tamara Sol, in preventive prison, and the recently sentenced compañeros Juan Aliste, Freddy Fuentevilla and Marcelo Villarroel.
We also remembered Marco Cuadra, a worker who set himself on fire on June 2nd, protesting the miserable conditions of survival in his work.
After the arrival of the repression, the clashes continued from within the University, without any compañero being arrested.