from the press (12/8/11) via liberaciontotal, translated by war on society: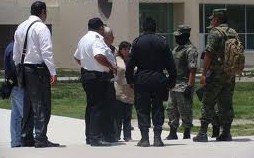 A letter bomb sent to the Polytechnic University of Hidalgo (UPH) caused minor injuries to a teacher of the institution, said sources from the Secretary of Public Education of the state and from the department of studies.
The events occurred around 5pm yesterday in the university's facilities located in the town of Zempoala where 3,064 students are enrolled.
The assistant secretary of Higher Education of the state of Hidalgo, Rolando Durán, said that UPH received a package addressed to one of their professors.
An academic noticed "an anomalous, unlikely situation" on not recognizing the sender, which motivated him to activate a security protocol, so the package was isolated and opened "carefully," said the functionary.
In spite of the precautions, the package "exploded in the hand" of a professor which caused him minor burns.
The rector of UPH, Sergio Arteaga Carreño, explained that the wounded professor suffered "burns on the hand" and on his clothes.
According to initial inquiries, "inside the package was gunpowder that was activated with a 9 volt battery, it was addressed to a professor, but it exploded on another professor since he opened the package because it appeared suspicious since the sender did not have the correct address."
The explosion provoked a deployment of municipal, state and civil protections police without having more information on the carrier at the moment. The General Prosecutor of Justice of Hidalgo opened the preliminary investigation 12/DAP/556/2011.
The event comes after the group Individualists Tending toward the Wild, who oppose industrial and technological development, sent a package bomb that wounded two scientists of the Technological Institute of Higher Studies of Monterrey (ITESM), in the State of Mexico on August 8th.
Several months ago, the National Association of Universities and Institutions of Higher Education (ANUIES) introduced more rigorous security protocols to prevent this type of attack against Mexican universities.