from the Italian press via culmine, translated by war on society: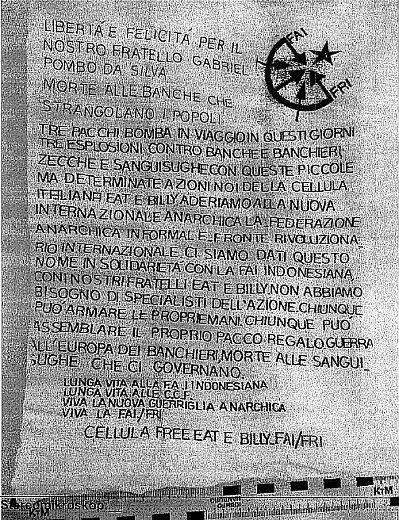 The claim of responsibility for the package bomb to the
central headquarters of Deutsche Bank in Frankfurt
FREEDOM AND HAPPINESS FOR OUR BROTHER
GABRIEL POMBO DA SILVA.
DEATH TO THE BANKS THAT STRANGLE THE PEOPLE.
THREE PACKAGE BOMBS IN ROUTE THESE DAYS, THREE EXPLOSIONS AGAINST BANKS AND BANKERS, FLEAS AND BLOODSUCKERS. WITH THESE SMALL BUT DETERMINED ACTIONS WE OF THE ITALIAN CELL EAT AND BILLY JOIN IN THE NEW ANARCHIST INTERNATIONAL, THE INFORMAL ANARCHIST FEDERATION AND INTERNATIONAL REVOLUTIONARY FRONT. WE ARE TAKING THIS NAME IN SOLIDARITY WITH THE INDONESIAN FAI, WITH OUR BROTHERS EAT AND BILLY. WE DON'T NEED SPECIALISTS OF ACTION, ANYONE CAN ARM THEIR OWN HANDS. ANYONE CAN ASSEMBLE THEIR OWN GIFT PACKAGE. WAR ON THE EUROPE OF BANKERS, DEATH TO THE BLOODSUCKERS THAT GOVERN US.
LONG LIVE THE INDONESIAN FAI
LONG LIVE THE C.C.F.
LONG LIVE THE ANARCHIST GUERRILLA
LONG LIVE THE FAI/FRI
FREE EAT AND BILLY CELL FAI/FRI