UPDATE: We have received much more and better info from actforfree:
SOLIDARITY POSTER SAYS:
…in your dead world, we will always be
the nihilistic fuse that defect…
…creating the conditions
for the coming of cosmic chaos…


FREEDOM!
To those accused for participation in the R.O. Conspiracy of Cells of Fire
Around 6.45 this evening, P.Vlastos (a known underground figure accused of organizing kidnappings among other things) took some prison guards hostage in his attempt to escape. A few members of the C.C.F. (who are in Koridallos because of their trial there on Thursday) also participated in the attempt. After the escape attempt failed, they started negotiating, while one of the comrades of the C.C.F. made a statement to the media that they participated in the escape attempt but do not want to negotiate with cops, but want to publicize the horrible conditions in Koridallos prison.
The comrade mentioned that five members of C.C.F. and Vlastos tried to escape during visiting hours.
Cops of all kinds surrounded the prison and closed off the inside in order for other prisoners not to find out and cause a generalized revolt.
In the early hours of 13/12/11 the "hostage situation", as the media called it, ended.
Vlastos and the comrades released the remainder of the visitors and the people guards.
After the visitors left the prison, ending their long day, they had to deal with all sorts of cops harassing them and searching them, while interrogating them with the last demand, "do they want to press charges against the prisoners"… !  Of course they received the appropriate answer.
Comrade Christos Tsakalos said: "Today we tried to do something. To gain our freedom and the continuation of urban warfare. We lost a battle, but we have not lost the war and continue to fight to win. We are an organization that fights for the ideals of a free life without any authority."
ALL THE COMRADES MEMBERS OF THE C.C.F ARE OK!
ALL OUR STRENGTH TO THE COMRADES
THE REAL TERRORIST IS THE STATE
ESCAPE AND FREEDOM TO ALL
EVENT: for the upcoming second trial of the Halandri case TUESDAY 13/12. 18.00 POLYTECHNIC UNIVERSITY, ATHENS *open call with the imprisoned fighters Members of the C.C.F.
TRIAL WEDNESDAY 14/12 9.00AM KORIDALLOS PRISONS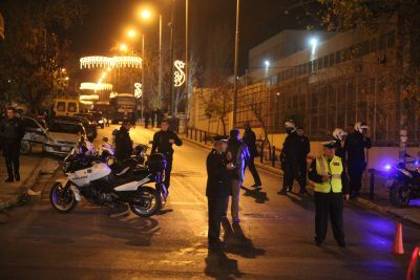 No matter what it is that happened or will happen,
We send all strength and total complicity to the Greek comrades!