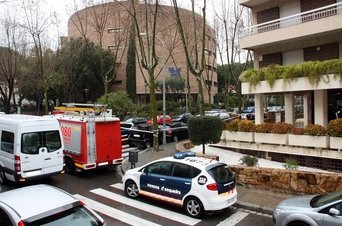 from culmine, transl waronsociety:
According to various media of bourgeois press, an explosive device has exploded in the elite business school ESADE, located in the wealthy neighborhood of Pedralbes, causing the evacuation of the center and nearby houses. Classes have not resumed through the afternoon.
from ABC:
ESADE is back to normal after this morning's incident, the explosion–or "deflagration" as the Catalan Police specify–of a homemade device that caused neither personal nor material damages in Building II of the business school on Av. Padralbes in Barcelona. (…)
The device exploded this morning in a study room of ESADE's Building 2, which the school has rented and where they only keep the library, photocopying and the School of Tourism. "If they wanted to cause harm, they chose the wrong building, there is not much influx of people," commented Marc, former worker of ESADE.
While the ESADE campus in Barcela was returning to normal, the Police were continuing with the investigation into the facts. What is known at this time is that it was a homemade device and, by appearances, rather rudimentary. According to the regional police, it had not actually exploded, but rather had made a "deflagration" without causing personal nor material damages. The device was located on one side of the ESADE Sant Ignasi School of Tourism, just behind the main building of the business school.
Sources from ESADE told us that they did not receive prior warning of the explosion, and that likewise in the previous weeks or months the school had not endured threats of any kind.
____________________________
Video: