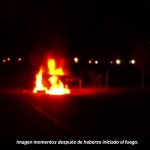 from vla, transl waronsociety:
"If the objective is to destroy domination, silence and forgetting, any solidarity act that does not compromise with power is valid and necessary."
Last Thursday. Using a tire and one of the area's guard shacks, we decided to take it as an item to blockade the street, and dousing it with liters of gasoline, we set fire and threw leaflets in solidarity with the insurgent comrade Tortuga, who is imprisoned for directly attacking the elements of capital, risking his very life.
And even though his legal hearing was postponed, the insurgent cells are not going to remain with our arms crossed and will continue spreading solidarity action by means of attacks against power until seeing you wild and free.
STRENGTH, COMRADE TORTUGA!
FREEDOM TO THE PRISONERS OF THE SECURITY CASE!
END TO THE BOMBS CASE FRAME-UP!
* We wish to make a clarification with respect to Walter Bond (now Abdul Haqq), for what was spread by some blogs (such as Culmine), that our actions have a religious bias that they have maybe even shown us as some religious radicals.
We do not show a position partial to any religious sect, because as anti-authoritarians, we reject religion as such. The solidarity act in which Walter Bond was mentioned was for someone who in that moment was for us a solitary warrior of the ALF, who carried the ideas and actions of the insurgent vision and not from the religious view that he now carries. On the other hand, the solidarity shown came from another date, a date on which he had not yet changed posture.
Receive our greetings.
Informal Anarchist Federation / International Revolutionary Front –
Group of Revolutionary Cells of Informal Organization \
Cell of Iconoclastic-Insurrectional Action