from Liberación Total (April 9, 2012) translation by This Is Our Job: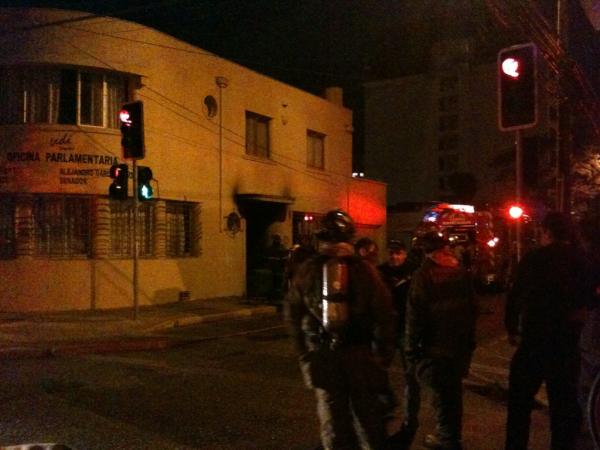 Whichever color political parties may be, whether right or left, they are one of the principal supporters of the existing order of domination and exploitation, legislating and trying to manage people's lives so that everything stays the same. Many (some naively) believe their false promises, but it's clear that politicians are only looking out for their personal benefit and that of their class.
In the face of this reality, early on Sunday morning we carried out an arson at the Independent Democratic Union (UDI) headquarters in Rancagua. This is our first attack, and we undertook it in solidarity with our brother Tortuga and all the anarchist and antiauthoritarian prisoners around the world, since the best way to demonstrate our solidarity is to spread attacks on power and the existing order.
Authority, with its penalties and punishments, wants to scare off anarchist activity. But instead, it should know that we will keep attacking harder each time, that we will not rest until we see every trace of domination and exploitation reduced to ashes, that we will not allow them to sleep peacefully.
FOR THE  SPREAD OF ATTACKS ON POWER.
FOR THE DESTRUCTION OF THE SYSTEM OF DOMINATION.
FOR TOTAL LIBERATION.
LONG LIVE ANARCHY!
—FIRE BRIGADE (INFORMAL ANARCHIST FEDERATION/
INTERNATIONAL REVOLUTIONARY FRONT)