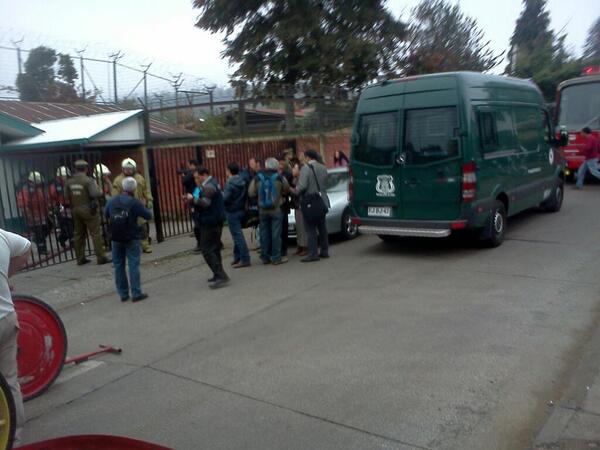 WOS Note: This is the prison where several of the subversive prisoners have been locked up accused of making explosives and drug trafficking, since March 28th. We will translate more information soon.

from liberaciontotal, transl waronsociety:
Today, Thursday April 4th:
At around 10:30 AM, while the accused prisoners in the Temuco prison were having visits, a riot was armed inside the prison, burning mattresses and other things.
The riot began in protesting, among other things, the entry of a prison guard in charge of leadership for about one month who had increased the abuses, humiliations (internally as well as with visitors) and abuses inside of the prison, where for example they had thrown the food that families brought onto the floor.
When they found out about the fire, they evacuated the visitors to give way for the firefighters, special forces and riot police to enter. A woman who was visiting said that they started to beat her daughter right there while she was being evacuated from the prison.
Now outside and without knowing anything about what was happening inside, the cops approached the place and only gave information to the press, giving them free rein to assemble the show they wanted, recording and framing a scene with the families and friends who were outside.
We still don't know anything about the compas who were imprisoned there since March 28th.
We are aware that inside they beat the prisoners, that at this time they must also be experiencing torture from the prison guards and punishments.
For the moment we don't know anything more, they are not letting out any information.
We make a call to be attentive to the situation.
* * *
April 4th, 2013, 10:20 AM
Urgent breaking news kids:
I came to visitations in the Women's Prison in Temuco and the kids rioted, setting fire to chairs, mattresses, blankets and everything that can be consumed by fire. The prison guards didn't want to open the doors. The kids shouted heartrendingly that they open the door, but they delayed for more than a half hour in doing so. Outside of the pen were the Special Forces of the bastard police, prison guards in riot gear, firefighters and the lackey press.
The kids protested that they have been flattening and beating them for more than two months, in fact there is a girl, Eliana Becerra, who has been on hunger and thirst strike for 36 days, they are beating her, the insiders gave me this information to spread around outside and protest the vengeful treatment that the prison guards are carrying out against them, and so I make a call to condemn and denounce the kids' situation–all of them, not only our prisoners.
At this time there are still family members and the bastard press outside.
No prisoner is alone!!
Freedom to all the prisoners!!
Spread this information!