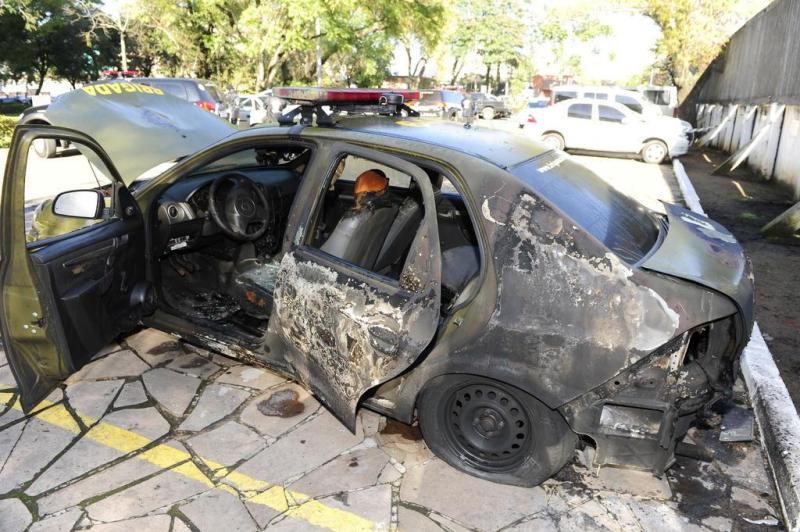 from vivlaanarquia, translated by waronsociety:
Yesterday, two vehicles that were in the Public Security parking lot and seven dumpsters were burned.
At least two vehicles of the Military Police were burned on Monday in Porto Alegre. The vehicles were in the parking lot of the Office of Public Security on "volunteers of the fatherland" street in downtown. The fire was started at 1 am.
The preliminary information reported that three cars were destroyed, however, the police said that one of them was only covered in soot. As such, one of the cars was completed burned, and the other, which was nearby, was partially burned.
According to the firefighters, molotov cocktails were found.
Before the fire started in the vehicles, seven dumpsters were burned in five places: at Casiano street and Mauá avenue, at 507 General Bento Martins street, at Coronel Vicente street and Julio de Castillos avenue, at 23 Chavels Barcelos street, and at 40 Francisco Leonardo Truda lane.
According to the Military Police, in some of these cages people had helped to put out the fire that was affecting the trash in the dumpsters. There were no suspects of who had committed the acts. The vehicles were sent to the General Investigative Institute (IGP) and the Civil Police to investigate the case. By means of a camera from the Public Transport and Circulation Business (EPTC) they are hoping to take care of those responsible.
JJiii Pohh!!!