From vivalaanarquia, translat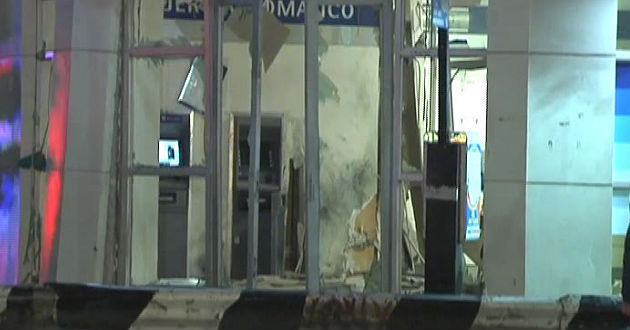 ed by waronsociety:
During the early hours of November 26, in a coordinated action, with explosive devices three representations of Global Capitalism were attacked: The BBVA in the Portales suburb of Mexico DF and two EDOMEX banks in Toluca.
The enraged and angry bombing is our response to the situation which compañero Mario Gonzales faces, who finds himself "formally" behind bars in the men's preventative prison and also has been carrying out a hunger strike for 49 days as a form of struggle against his incarceration. In recent days, the compañero was transferred against his will to the medical wing of Tepepan, where he continues his fight. This action is for you, in solidarity and in total support of your struggle!
These actions toward the symbol-isms of capital are also an energetic response before the repressive acts of the SSP-DF police perpetrated against a contingent of compañerxs who carried out a rodada in solidarity with Mario González; in which the police captain insulted, harassed, and beat various compañerxs who protested. This is against this as well as the constant harassment of compañerxs during events in solidarity with Mario.
The DF police never tire of beatings and repression; not in spite of and anyways we know it is their "job"-with which they comply with in the majority of cases- they too deserve to feel the rage of a response, for they are not exempt of responsibility.
SOLIDARITY WITH COMPAÑERO MARIO GONZALES!
SOLIDARITY WITH MONICA CABALLERO AND FRANCISCO SOLAR PRISONERS IN SPANISH PRISONS!

WAR ON THE STATE/CAPITAL ON ALL FRONTS!
LONG LIVE ANARCHY!
War against the state

Autonomous Cells for Immediate Revolution – Praxedis G. Guerrero, Nucleus of the Attack Aginst Power- Black Fir
México  11-27-13