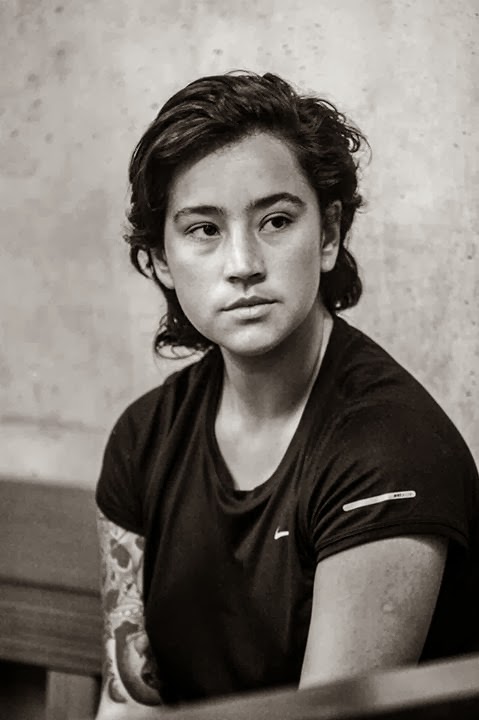 From vivalaanarquia, transl. waronsociety:
Villa Francia, Feb 3, 2014
Dear friends and compxs:
Our beloved Tamara Sol is imprisoned.
With the speed of an avenging lightning bolt, as always happens when they are condemning a poor person or a subversive, a judge of the system, Paoloa Robinovich, is considering sentencing her to 10 years and a day to life in prison, accusing her of "aggravated robbery" (robo calificado) the hardest statue in the Chilean penal system, arguing that Tamara Sol is a danger to society. Society constructed so orderly on the aberrant inequality between a few immensely rich and the many immensely poor; a society militarized with hundreds of cops in its streets and with everything in the periphery, taking hostage the youth of the poblaciones, with authorization to beat them, lie, create montages, arrest, reinvent cases, assassinate, spy, photograph… a society that is the "big market," a society proud of the individualism it has created, proud of the mediocrity it has created, a society in which the mediums of communication transmit only show business or passionate crimes… The judge, defending this society, has dictated that Tamara Sol shall remain in San Miguel Jail in the high security module during the investigation period (which by principle is 60 days). In this module of punishment, there is only a half hour to go outside…or perhaps they are caged all day.
This speed in the judges' dictating a sentence is the complete opposite when someone in uniform is sentenced, who after assassinating and abusing the youth and civilians in the poblaciones with their power, live peacefully in their houses. We in the murder of Eduardo and Rafael, our sons, had to wait more than 20 years for justice to be pronounced and his sentence was very light, 7 years, only 7 years for the murder of 2 people and the arrest was without one source of media present, without showing their faces, without their spouses in their arms, and then they are sent to a 5 star hotel in Punta Peuco. Nor is this spirit seen on the part of the judges when they are sentencing the thieves in collars and ties where money also flows from fear and everything is suave, everything remains secret.
We would like to tell you that Tamara Sol is doing relatively well (in her condition as prisoner). Her spirit is firm and high, she is a dignified and valiant women who has challenged us and her family more directly, we are cowards, who will never take the path out of this damned system, with which we conform with crumbs, that it will never be "the moment" for us, nor will we have the "sufficient means", that we mark the past and all of a sudden a few kicks, but nothing that breaks with this mortal routine in which we are stuck.
We are in a tremendous amount of pain because it is our girl, who we love profoundly, who is detained. We are proud, as well, because she is now a woman and has demonstrated a tremendous bravery in her life.
A woman who profoundly questioned us so that we would not stay cornered in this system, accommodating our lives to its commands, adjusting ourselves to the murder of comrades, to the imprisonment of the fighting youth, the permanent robbery that is done to us as a people in every sphere, from the robbery of our daily life to the robbery of our land, of our oceans, of our richness, of our trees.
We need strength, compxs, we need your sincere and selfless friendship, as you have always done.
Our path is already outlined and we can not remain calm hoping that others do that which we should continue doing….TO PROFOUNDLY LOVE THE IDEA OF A FREE AND FRATERNAL SOCIETY AND CONSTRUCT IT WITH ACTIONS BIG AND SMALL, NOT ONLY IN DISCUSSION, BUT WITH EVERY FORM OF FIGHTING AND IN EVERY SPHERE OF OUR EXISTENCE.
Tamara Sol, daughter, granddaughter, sister, we love you with all our strength.
Tamara Sol, fighting compañera, we admire you for your bravery. We are with you.
Tamara Sol we will be with you always, you will never be alone.
Tamara Sol "the sky reflects in the ocean so you only have to look toward the moon." Patience, patience, love.
We would like to give thanks to all of those who have visited our home, those who have immediately demonstrated their care, and those who have actualized solidarity by getting things Tamara Sol needs in prison.
We are grateful to the women who welcomed her in that somber precinct and support her with care.
We also acknowledge those who have not been with us, demonstrating to us with their attitude that they do not agree with Tamara Sol and this has made it very clear to us who we count on now and in the future.
Ana Vergara Toledo      Luisa Toledo Sepúlveda      Manuel Vergara Meza
http://rojoscuro.blogspot.in/2014/02/carta-por-tamara-sol.html