from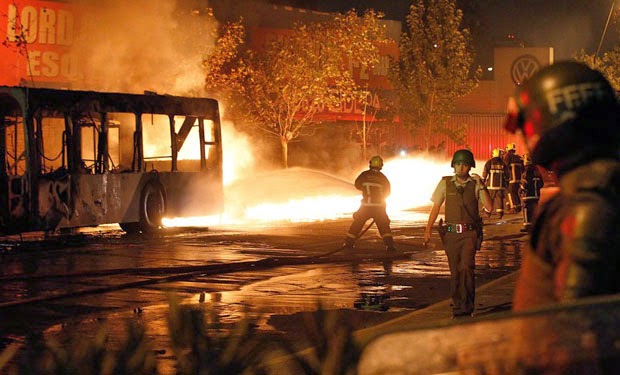 vla, translated by waronsociety:
from the press
Unknown persons tried to burn a Transantiago machine in Villa Francia
March 21
A Transantiago machine showed signs of burning after being attacked with molotov cocktails, around Villa Francia in the Estación Central community. The act was reported today at 7 at the intersection of Vista Hemrosa and 5 de Abril, when 10 people pretending to be passengers reached the intersection at valle Vista Hermosa. Here they threatened the driver and forced the passengers to get off. Seconds later the assailants, with their faces covered, threw incendiary elements maintains the Carabinero Captain, Cristián Pino. After the subjects ran, the same driver was able to control the fire with the help of the Carabineros who arrived to attend to the emergency. It is worth emphasizing that pamphlets alluding to a "day of agitation for international solidarity" the 29 of march, the Day of the Youth Combatant were found around the area. They also mentioned the process for the crime of the ending of Carabinero Luis Moyano and its presumed authors Freddy Fuentevilla, Marcelo Villarroel and Juan Aliste Vega. The representative of the Government, Álvaro Elizalde, "condemned" the incendiary attack and its possible consequences. Likewise, the Supervisor of the Metropolitan Region, Claudio Orrego reiterated that you can not confuse vandalism for social demands. Carabineros have a special preventative plan set up in those sectors where disorder is produced before and during the commemoration of the death of the brothers Rafael and Eduardo Vergara Toledo, which happened the 29th of March in 1985.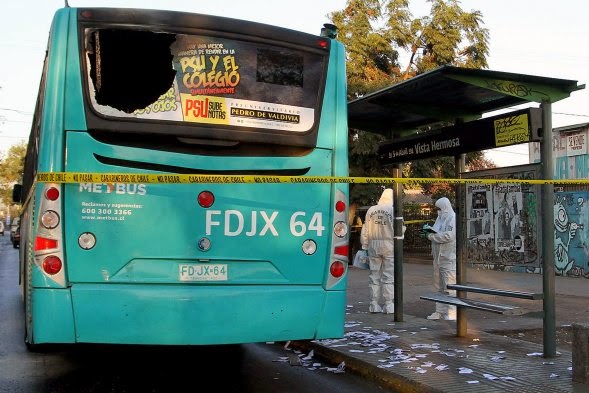 Encapuchados burn a transantiago bus in the center of Santiago
from the press   3/21/2014
A group of six individuals forced the passengers and driver of a bus to get off the vehicle and then set fire to it at the intersection of Santa Isabel and Lord Cochrane. According to cooerpativa.cl, the men got on the bus and proceeded to intimidate the passengers and the driver, then set fire to the bus and later escaped on foot. Firefighters arrived to put out the flames but were unable to keep the bus from being totally destroyed.

Cop is burned during riots in Macul (Santiago)
from the press 3/17/2014

A cop was taken to the hospital due to burns suffered after being struck in the body by a molotov cocktail while attempting to move his motorcycle during the riots the Tuesday on Macul ave. The incident was reported in the area close to Grecia avenue, and was carried out by subjects with their faces covered who blocked transit and apparently, before the intervention of uniformed police, hid in the head offices of the Metropolitan University of Educational Sciences. The riots caused long delays in the area.
originally from rojoscuro