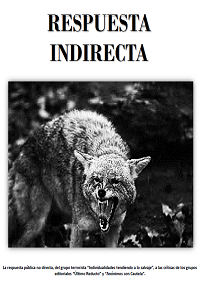 from edicionesaborigen via instintosalvaje, transl waronsociety:
Ediciones Aborigen (Aboriginal Editions) reproduces one of the entries from the blog El Tlatol which was published in August 2014, in which the persons responsible for the blog's updating take note of something curious and doubtless worth publishing.
September 2014
E.A.
Introduction from El Tlatol:
Reading more deeply the communiques from the ITS group, the group that updates the blog El Tlatol could see that the sixth text from ITS is a response to the critiques written by a pair of editorial groups loyal to the ideas of Ted Kaczynski, namely Último Reducto (Last Bastion) and Anónimos con Cautela (Cautious Anonymous).
This pair of critiques were made public on January 8, 2012 on a blog that no longer exists, and ITS indirectly responded to them on the 28th of that same month, without mentioning the signatory editorial groups.
Perhaps these critiques–and especially the one by Último Reducto, being the one that has more weight and simplicity–were what pushed ITS to self-critique and the definition of positions. We will not really know until they make a statement about this matter.
We clarify that the group that updates the Tlatol blog do not believe in intend to attach ourselves to the rights of the author, therefore we consider it viable to publish texts that we did not author (as in this case), but which serve us egoistically for a concrete end. So if anybody thinks to write to our mailing address and ask us for an explanation about the use of their text (or texts) without the author's permission, our response will always be to ignore and to pass over their bothersome rules of writing.