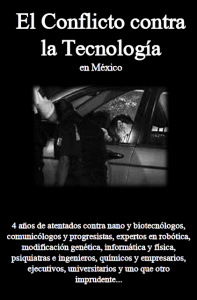 from edicionesaborigen via instintosalvaje, transl waronsociety:
Ediciones Aborigen has taken the text "Chronology of the Conflict Against Technology" posted on the blog El Tlatol in August, 2014, in order to compile it in an archival effort for its physical and informational reproduction.
This chronolgy presents the evolution–in the thinking as much as the modus opandi–of the groups and individuals dedicated to sabotage and terrorism (in "Mexican territory), as an extreme form of response to the frenetic advance of the techno-industrial system.
This is a history that does not end here, the wild natives of these lands preferred to die before they would be domesticated, the resurgent resistance that has called to us is following their steps.
In defense of wild nature,
Ediciones Aborigen
September 2014