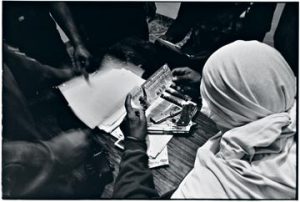 from instintosalvaje, transl. by waronsociety:
It is true, we are not at all altruistic nor charitable, that became clear on November 14 when we detonated an explosive charge at the "Mexico Teletón Foundation" in Tlalnepantla,  México.
Approaching the day when the submissive and numb Mexican society unites in front of the television to sympathize with disabled children used to accumulate large sums of money is close and the "benevolent" industries don't pay taxes, we detonated our explosive, which that while the mere act had nothing to do with "demands for social justice", nor political colors, nor anything of the sort. In case anyone will think that.
Our trade is something else, some know it very well. We attacked this Foundation because it is one of the institutions along with the private initiatives and mass media, that implement alienation through the technoindustiral system's values such as "promiscuous solidarity", "peace", "progress", "humanism", etc. Because they spread at great length the moral that society should continue to "calm its temper", now in a country which lives in political, economic, and social crisis.
The "Teletón Foundation", is also an agency along with the two most prestigious universities in Mexico (UNAM and ITESM), in charge of the development of technological and scientific innovation with therapeutic purposes, to say, together they completely adhere to the idea of civilized progress, to make sure this system follows its course. Surely many will ask: And what harm is caused by the existence of these types of charities for disabled people? Perhaps the questioners have not taken into account that the system always dresses as a "well intentioned nun" to continue perpetuating itself. Complete technology will always have the same purpose in whichever of its forms, whether therapeutic or weaponizing, educational or of massive destruction, medicinal or poisonous. And that purpose is to continue existing over wild nature, because of this our attack.
Without more explanations: We are not Christians, nor do we characterize nobility, we do not seek nor defend charity from anyone or with anyone!
Wild Reaction
"Nocturnal Hunter Faction"