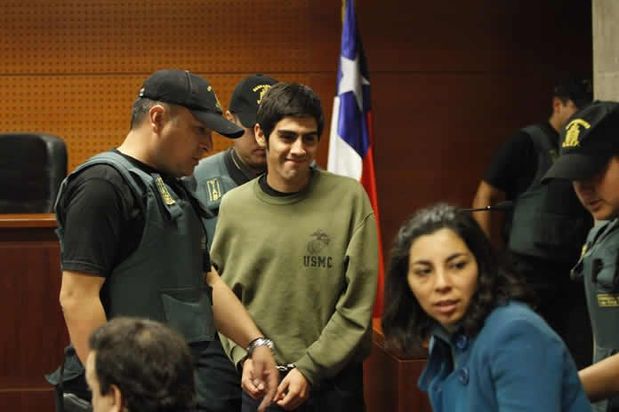 from vivalaanarquia, transl waronsociety:
One hundred days from our arrest, a brief communique in the second hearing.
We are Carla and Ivan, we have been in the cages for more than 100 days, when we were plunged into the thickening world of the prisons one lonely morning of April 16. We told ourselves "Welcome to the machine for grinding human flesh," and even now this crude discovery keeps us open-mouthed. The prison is very ugly and Power is tenacious against political prisoners.
Targets of a repressive blow, unscrupulously publicized, we remain in whole, secure, together and unending in spite of the sorrows. We have been witness to how the punishment passes on to our families and close ones. Among it all we live the vicious time of the prisons as best we can.
If we would accept terrorist responsibility for the acts that they accuse us of we would go out onto the street this very day, but we believe that no one in their sane judgment and with a drop of blood in their veins would be able to assert: "Yes, I am a terrorist," "The collective terror of the population inspires me," "I systematically plan and execute actions that tend to deteriorate Human Rights."
The Anti-Terrorist Law is nothing other than the acute expression of the fascist State, its application has always been in the sense of the fear of the rich that their feasting might wind down, since the rich are afraid of everything, of the self-determination of a people as old as the earth, they are afraid of freedom, of non-conformism, and above all they are afraid of anyone who is not afraid of them.
Our hands do not shake at refusing to sign for an abbreviated trial, even though this decision means the prolonging of our stay in the sewer of this prison society.
Through these keyholes pass beams of light of the unmistakable brilliance of solidarity which sustains the flame at the bottom of one's sight.
Thanks and peace, for here we keep an eye in the back of our heads.
We will never have an owner.
Strength to the Mapuche infancy.
Strength and love to our children and our loved ones.
Between ourselves more and more strength.
Freedom to the political prisoners of the world.
End to the Anti-terrorist Law.
Carla Andrea and Iván Darío,
Imprisoned for fighting.
C.P.F Santiago
C.D.P Santiago Uno
Santiago, Chile. Early August, 2012.