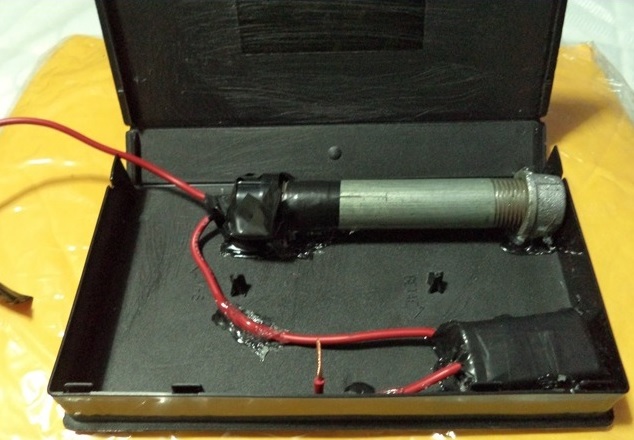 Note from Instinto Salvaje:
Without ceasing to communicate what some individuals carry out against some persons, representatives or visible faces of the techno-industrial system, we believe as a webpage that the struggle emerges with the destruction of the techno-industrial system, but that we wager our lives, ideas or actions for the destruction of every form of authority first and foremost, and in anarchy as a central axis of our lives. This does not mean we do not support or will stop spreading what some individuals are doing recently in the Mexican region–entirely to the contrary–but we want to make clear our difference and our position around these topics.
Morelia, Michoacán
14 April 2014
"Obsidian Point" Circle of Analysis
It has been some time since we started writing about some situations that had arisen in Mexico concerning the terrorist group ITS; we published a total of three analyses [1], in which we have publicly demonstrated our support of the group ITS, in their actions as much as their position. Until now we have decided to solely be those who comfortably spread and highlighted the group's communiques and actions, but that is over. The violent advance of the techno-industrial system, the degradation that civilization leaves in its wake and the oblivion they are forcing us toward, ceasing to be natural humans to the point of turning into humanoids: there must be a convincing response.
We abandon words and analyses in order to begin with our war, the war against what kills us and consumes us, against the invincible megamachine which only wild nature or its very own technology can collapse. We do not seek victories, triumphs or results from what we do or have done, we are not revolutionaries, platformists or anarchists.
We only seek confrontation with the system, the sharpening of the conflict against it. From this day we publicly put aside the word "analysis," in order to become The Obsidian Point Circle of Attack.
And with that said, we declare ourselves responsible for a package bomb with a considerable quantity of shrapnel, sent in the final days of March by express mail to Dr. José Narro Robles (photo below), rector of the National Autonomous University of Mexico (UNAM). With this stated, more than one will ask: Why attack the "respectable" Mr. Narro? … Here is our response: Narro is one of the many public figures who propels the great majority of scientific and technological projects within and without the country (projects that gestate in the UNAM and in the institutions related to it), which tend to improve civilization, which aim toward economic development, and which tend toward progress, toward the perpetuation of the technoindustrial system, and finally the modification and destruction of wild nature (along with human nature).
We bitterly oppose the progress of the technological or industrial system, its cultural values and its slave society, since progress is the enormous bunch of attacks against wild nature. It is for progress that rivers, seas and oceans are contaminated, that forests and jungles are deforested, that the species are exterminated from the various environments where they exist on this earth, that other worlds inside and outside of the Milky Way are examined in order to corrupt them like this one, the physique, character and mentality of the human being is manipulated and dominated now by machines, our deepest and darkest natural instincts are domesticated with their propaganda on television, radio, internet, newspapers, schools, jobs and universities. Progress kills, sickens and makes everything artificial and mechanical. Narro is only one of its most efficient spokespersons [2], so he was the target.
The academic leader, who was in charge of a November 9, 2011 caravan in Cuernavaca, Morelos, after the group ITS burst the head of the biotechnologist Méndez Salinas [3], never once suspected that another group similar to ITS would decide to attack him years later. After this attack, there have been some miserable defenders of civilization and of the imposing culture who have gotten upset and indignant for some reason on reading that we oppose progress, this gilded and untouchable term for those "decent" academics who dream some day of being, as the people of their class are, in First World countries.
We care little what they call us, such as 'barbarian,' 'foolish,' 'mediocre,' etc, we do not want to give any "good impression" to their eyes, we do not want to be, nor are we, nor will we be, the traditional "social fighters" of Mexico, we are egoist radicals, politically incorrect, irreverently individualist at war against the progress of the technoindustrial system.
With this we make a call to all the lone wolves or affinity clans who are indecisive about attacking the system, let's not wait any longer, we don't have the luxury of waiting any longer, it's true that even though we do what we do, everything will turn into a technological pile of garbage, but before that happens, we have decided to attack and resist the system's barrages, without glory or victory, just with our individual dedication to continuing the war, which our fierce hunter-gatherer nomadic ancestors started centuries ago against the invader, European outsider or native outsider.
Obsidian Point Circle of Attack
Círculo de Ataque – Punta de Obsidiana.
1. "On the latest communique from ITS" (February 19, 2013). "El fisgón, la prensa y los terroristas" (March 14, 2013). "Bomb Threat: An immediate response to all the infamy" (April 5, 2013).
2. This is made clearer with their intervention in the "Instituto Aspen México" (March 24 and 25, 2014), an institution that seeks to propel innovation and the formation of leaders, businessmen, academics, intellectuals and politicians of this country. All this assembled trash does not deserve immobile critiques and verbals attacks, it deserves explosions and bullets. Thus we warn all the conglomerated institutions that tend toward progress: watch out, you could be next, and just because of you we promise to improve our explosives and make them potentially deadly, since the communication media hid this attack.
3. More about this is explained in ITS' Seventh (February 2013) and Eighth (February 18, 2014) Communiques and their Interview (January 24, 2014).