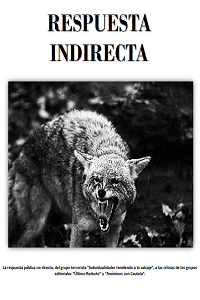 from edicionesaborigen via instintosalvaje, transl waronsociety:
Ediciones Aborigen (Aboriginal Editions) reproduces one of the entries from the blog El Tlatol which was published in August 2014, in which the persons responsible for the blog's updating take note of something curious and doubtless worth publishing.
September 2014
E.A.
Introduction from El Tlatol:
Reading more deeply the communiques from the ITS group, the group that updates the blog El Tlatol could see that the sixth text from ITS is a response to the critiques written by a pair of editorial groups loyal to the ideas of Ted Kaczynski, namely Último Reducto (Last Bastion) and Anónimos con Cautela (Cautious Anonymous).